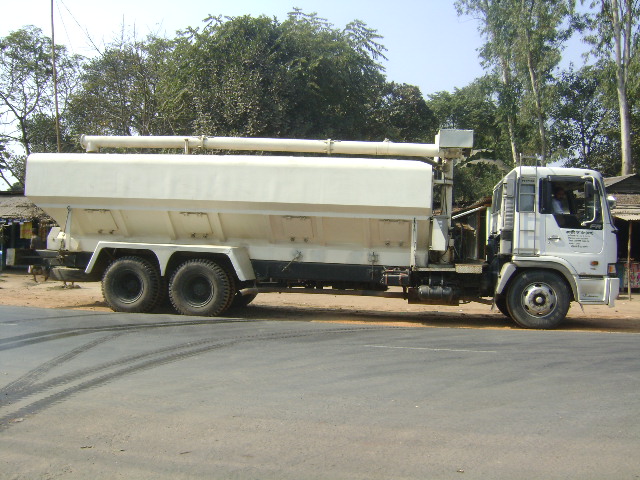 散装饲料罐拖车Bulk Feed Tank and bottom 05 Ton
型号Model
BQSZC5T Tank
Bottom Chassis
罐体尺寸 (m) Dimension of the Tank (LxWXH)
4.6X2.15X1.63
与罐体螺栓连接

Bolt connection with the tank, tyres unassembled

单轴,四轮

Single axle,

four tyres

 

外形尺寸 (m) External Dimension (LXWXH)
6.865X2.15X2.50
罐体容积 (m3) Capacity
11.26
厢体数量 Number of compartments
2
卸料速度 (m3/h) Discharge Volume
30
卸料高度 (m) Discharge Height
9.5
净重 (ton) Net Weight
2.8
2.散装饲料罐Bulk Feed Tank 10 Ton
| | |
| --- | --- |
| 型号Model | BQSZC-10T |
| 罐体容积 (m3) Capacity | 17.12 |
| 罐体尺寸 (m) Dimension of the Tank (L*W*H) | 6.6 X 2.15 X 1.63 |
| 外形尺寸 (m) External Dimension (L*W*H) | 7.2 X 2.15 X 2.4 |
| 厢体数量Number of compartments | 3 |
| 卸料速度 (m3/h) Discharge Volume | 30 |
| 动力 ( kW) Power | 17.2 |
| 卸料高度 (m) Discharge Height | 8.5 |
| 净重 (ton) Net Weight | 3.5 |
| | |
| | |
The bulk feed tank consist of parallel screw conveyor, vertical screw conveyor, lift screw conveyor, electrical power control and the feed tank, not include the truck and chassis.
Technical assistance: we can offer a technical assistance to assist the installation, testing and commissioning. All the cost of the technical assistance will be on buyer's account including air tickets, meals, lodging of reasonable standard, airport transfer and all transports related to the work scope.
And the customer should supply necessary factory facilities such like site, overhead crane to lift the tank, welding machine of 250A to weld the tank to the truck, oxygen, acetylene cutter, and skill workers capable of welding work and general metal fabrication.