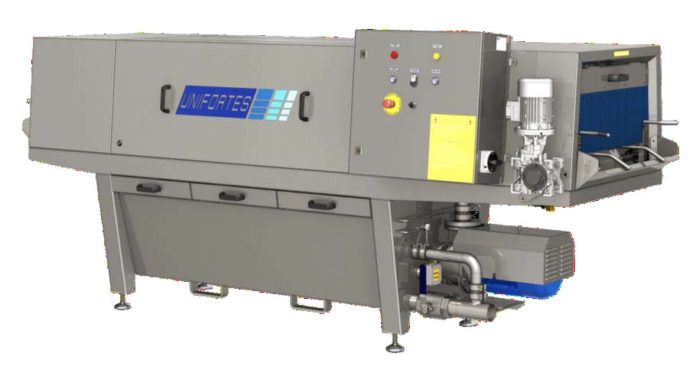 Product info:
Description
The Unifortes UNI-BW300.60 is part of the "Basic" series and specially designed to offer some of the key features of the "industrial" series at a lower capacity and for smaller budgets. The tunnel washing machine is suitable for washing and rinsing crates, trays and boxes in a wide range of sectors. It consists of a washing section and a rinsing section. Due to its smart design it will be available in a wide range of varieties. Through its compact design the UNI-BW300.60 is suitable to wash capacities up to 400 product/h. The machine is customized according to the specific product that needs to be washed, based on standard components. This guarantees a versatile machine with the optimal cleaning result.
Hygienic construction
The machine is fully constructed out of corrosion resistant stainless steel. It features an open design with a hatch you can remove for thorough cleaning. When the machine is off, the hatch can be opened and the filters can be removed for cleaning the whole machine.
Economic
To reduce operating costs the machine applies numerous features to minimize the water- and power consumption. The washing water is collected, filtered and reused to minimalize usage of water, chemicals and heating energy.
Safety precautions
Both man and machine safety are an important issue for Unifortes. All Unifortes machines are according to the CE-guidelines and supplied with a full risk analysis. All critical elements are shielded by the proper safety measure. On the machine are multiple emergency stops and a lock on the main hatch.
Options
There is a wide range of options available to extend the functionality of the machine. These options include heat exchangers or steam heating systems for the tank. Other possible options are for instance rotating drum filters for special types of contamination, extended in- and outfeed tables, PLC, filter detection, cleaning program and a lot more. Unifortes is happy to advise you in detail how to get the best machine for your application.