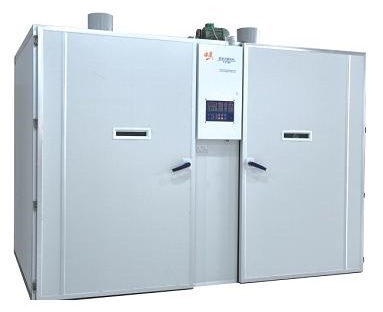 Specifications of Complete Equipment 
Setter
Egg Capacity: 19200 (PC)
Number of trolleys: 4 (PC)
External Dimensions: 3360×2235×2375(mm)
Specification of trolley(Capacity \tier\quantity\dimension: 4800\16\4\570×1540×2100(mm)
Specification of egg tray (capacity\quantity\dimension):150\2\502×732×37(mm)
Apparent Power: 84(alternative)
Insulation Resistance: ≥2MΩ
Control Range of Temperature : 31.50℃~39.00℃
Control Range of Humidity : 40~80% RH
Timing length of Turning: 60/120min
Turning Angle: 53°
Hatcher
Egg Capacity: 19200 (PC)
Number of trolleys: 4 (PC)
External Dimensions: 3360×2235×2375(mm)
Specification of hatcher trolley(Capacity \tier\quantity\dimension: 4800\16\4\1640×560×250(mm)
Specification of hatcher basket (capacity\quantity\dimension):150\2\533×800×120(mm)
Apparent Power:84KW
Insulation Resistance: ≥2MΩ
Control Range of Temperature: 34.40℃~38.60℃
Control Range of Humidity: 40~80% RH
(Refer to the instructions included with the hatcher , if any difference appears.)
Main features
1. With all functions of "Fuzzy computer cabinet-style incubatory equipment."
2. Set supervising equipment for hardware and software, avoiding "break down."
3. Apply power supply source equipped with electronics detective devices, add device of "phase failure protection board", system can stop action of stirring fan automatically and send voice & light alarm when there are phase failure, phase partial and phase disorder occurred on power supply source.
4. Can choose control function through combination keys on control panel, more convenient and flexible for operation.
5. Strong update ability of software, software system can proceed function extension and version update.
6. Detection system apply electromagnetic components instead of technical components, making sensitivity of detection higher and response rapider;
7. Equipment can equip with water heating (cooling) component, can according to equipment's temperature change status start or shut down automatically function of electric heating; also can work in water and electric simultaneously.
STRUCTURES FOR INCUBATOR&HATCHER
Multi-information display cabinet
Control panel of this model can display not only measured values of temperature, humidity inside box part and damper as well as amount of egg turning, also display setting values of them, as well as position of egg trolley, position of damper, working status of +5V power supply source, working status of water heating (water cooling) and electricity heating, making each setting value and measured value of incubating process clear; meanwhile, equipment has added functions of phase failure protection for fan power supply, lift reliability of control system.
DAMPER SYSTEM
HUMIDIFYING MECHANISM AND &HEATING PIPE
 Damper- control system works in two modes: setting position and self-adjusting modes.
1. Dampening is worked at an interval model, which can reduce a negative impact from temperature field in the cabinet. Nylon stand, Never rustiness.

2. The intelligent fuzzy control technology is used for heating. Stainless heating pipe.

AIR-COOLING SYSTEM
AGITATING FAN SYSTEM
The working time is calculated according to the difference between actual temperature and set value and the speed of the temperature rising by fuzzy control system.
Form Uniform Temperature field.
EGG TURNOVER MECHANISM
EGG TURNOVER DEDTECTION
The egg-turnover function can be worked at an interval mode automatically (the interval can be set in one or two hours by manufacturer).and the interval LED will display 1 or 2 hours.
The egg-turnover function can be worked at an interval mode automatically.
Ambient Conditions
  To achieve the best performance and optimal incubating effects, the following ambient conditions are necessary for the hatchery hall:
Ambient temperature: 20~27 ℃ ( optimal: 25℃)
Ambient humidity: 50—80%RH
Power supply:

Three-phase five-wire system( three phase lines, one neutral line and one grounding line), 380/220VAC 50HZ±10%
A separate air switch (380 VAC/40A is recommended) or a knife-break switch with fuse (380VAC/60A) is equipped for each incubator to cut off electric connection between the power grid and incubator.
Copper wires or cables with section of over 3.0mm2 are used as the electric connections from air switches or knife-break switches to incubators. Besides, current leakage protectors are indispensable.

Water supply: clean soft water under pressure of 0.3~0.5 MPa.
Flatness of floor: flatness≤5mm/10m2, with drainage ditches for sewage draining.
Height of the incubating hall: ≥5m, well ventilated, CO2 content≤0.1%, and the exhaust gas from incubators must be vented out of the room.
Compressed air: 0.6~0.8Mpa pressure for egg-turning; recommended compressor: air displacement: 0.8m3/min, working pressure: 1.0Mpa.
Operator: responsible and well trained; abide by instructions in this manual and the methods instructed by the trainers.
Notice: although the incubator can still be put into use when the ambient and electric conditions are substandard, the service life and incubating effects will be discounted. We suggest you use AC regulators from our company. Do not use regulators without quality certificates.